Fingrid's Green Bond as part of the company's responsible operating model
The first Green Bond issued by a Finnish corporate welcomed to the London Stock Exchange.


On 23 November 2017, Fingrid published a press release on the issue of a €100 million Green Bond. The transaction attracted broad international interest and expanded the company's debt investor base. This listing of the first Green Bond issued by a Finnish corporate was welcomed to the London Stock Exchange on 11 January 2018, when Fingrid was invited to the market open ceremony.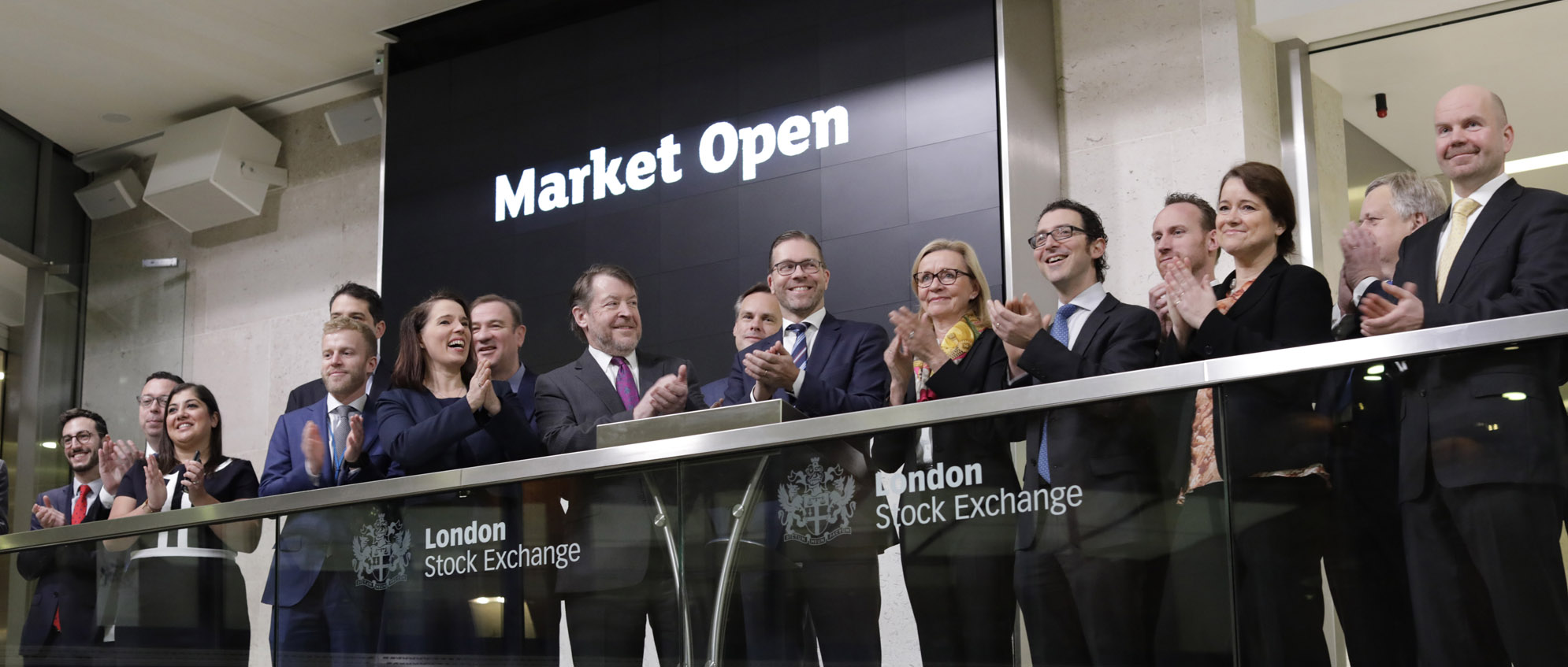 Photo: Fingrid Oyj opened the London Stock Exchange market on 11 January 2018. On the stock exchange balcony among others Sir Roger Gifford, SEB, Finnish Ambassador to the UK Päivi Luostarinen and from Fingrid CFO Jan Montell, General Counsel Marina Louhija, Group Treasurer Jussi Pohjanpalo and Communications Manager Marjaana Kivioja.

Fingrid's strategy and its various perspectives form the starting point for our corporate responsibility work. Corporate responsibility is a key element in the implementation of our strategy and in our business expertise. By operating responsibly in all areas of sustainability, we can best bring value to our stakeholders and ensure the acceptance of our projects by society. Fingrid's Green Bond financing also promotes the global development of sustainable and responsible debt capital markets.

"Fingrid's mission is to secure reliable electricity for our customers and the society. We shape the clean, market-oriented power system of the future. As also sustainability is one of our core corporate values, it is natural for us to participate in the Green Bond market to finance our long-term investments, which have positive environmental effects," says Jan Montell, CFO and Senior Vice President.

In order to ensure the transparency and comparability of our operations, we have been reporting on our corporate responsibility in accordance with the international Global Reporting Initiative (GRI) framework since 2011. Requirements for corporate responsibility reporting by state-owned companies are also taken into account. The annual report stands for a Communication on Progress (COP) report in compliance with the UN's Global Compact initiative.

Going forward, Fingrid will be reporting on investments, which are financed with the Green Bond proceeds. These investments connect renewable energy, reduce electricity transmission losses or improve energy efficiency via smart grids. The investments include, for example, a new transformer at Kristinestad substation, which enables the connection of 300 MW of new wind power capacity without the need to construct new power lines, new double conductors at the Isohaara-Raasakka powerline, which enable the connection of 100 MW of new wind power capacity with minimum connection costs and a new Hikiä-Orimattila transmission line, which will replace the existing Rautarouva transmission line from 1928, significantly reducing electricity transmission losses.
In our daily work, Fingrid's responsible way of operating is reflected in continuous personnel training, health and safety development projects with suppliers, material handling efficiency, actively ensuring sustainable procurement and awards for Environmental Impact Assessments, among other things.


Further information:

Jan Montell, Chief Financial Officer, Fingrid
+358 30 395 5213 or +358 40 592 4419
Further information is also available in the Green financing section of Fingrid's investor pages

Previous news
Key words:
Green Bonds are bonds issued where the proceeds are earmarked for investments with expected positive long-term net environmental impacts. The borrower is committed to reporting annually on the projects for which the proceeds have been used.